June 6, 2018
Transforming Your Mindset – The Golden Angel Success Interview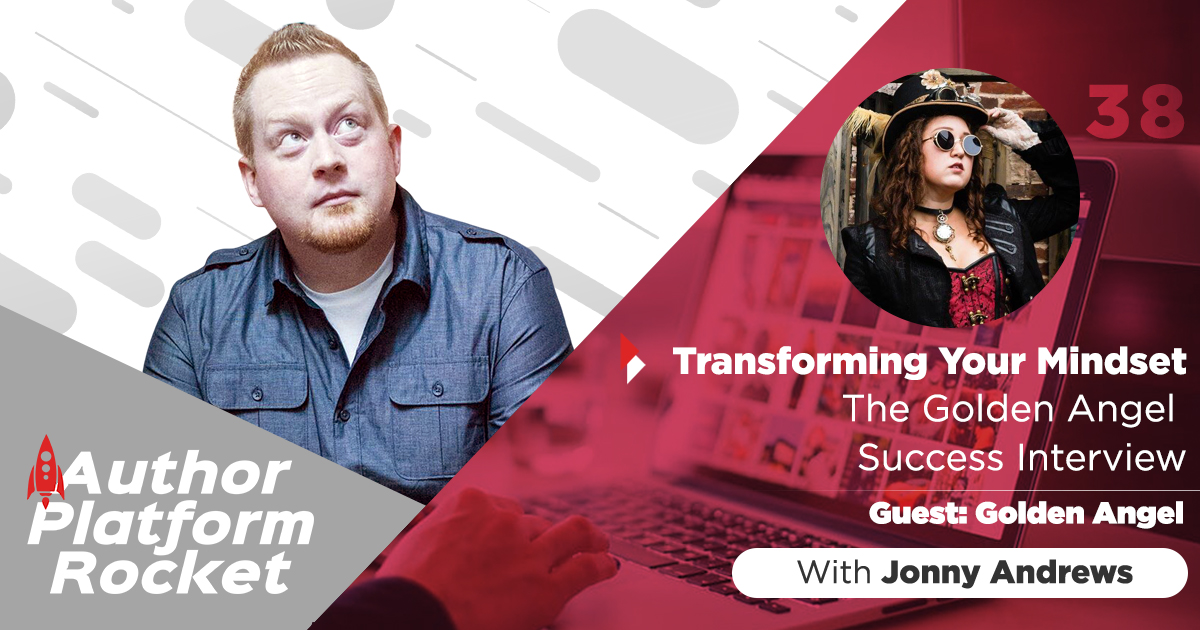 During this 38th episode of Author Platform Rocket, marketing veteran Jonny Andrews discussions how you can intensify the success of you book business by incorporating mentors into your journey. For this special installment, Jonny has a guest known as Golden Angel who is a fairly prolific indie romance author with 37 novels. Golden Angel expresses how transformative having a mentor has been to her own indie author career. Download PDF Podcast Transcription
Golden Angel started writing for the free website Literotica.com in 2005.
When she wrote the free story "The Venus School," fans wanted to be able to own it off of the Literotica website—she turned it into four stories.
Golden Angel created a following on Amazon, Facebook, and her newsletter.
Author Lee Savino friended Golden Angel on Facebook and became Golden's mentor and advisor.
In November 2017, she worked on sign-ups, adding a free story to her newsletter, and virtually met other authors.
She joined Facebook reader groups and created her own.
Golden Angel's newsletter was expanded thanks to newsletter swaps and Instafreebie.
Self-imposed "imposter syndrome" still haunts Golden Angel, but the support of Lee Savino helped push her out of her shell.
After taking Lee's advice, in the first three months of 2018 Golden Angel had made as much money from her books as the entirety of 2017.
Working as a team in the author community wasn't as competitive as she thought; they promote each other.
Golden Angel is signing a contract for her first traditionally published book.
Golden Angel's books are available at: iBooks, Kobo, Barnes and Noble,  Smash Words, and Amazon. Download PDF Podcast Transcription
3 Key Points:
Golden Angel's newsletter was expanded thanks to newsletter swaps and Instafreebie.
"Imposter syndrome" can be remedied with the help of mentors and engagement in an author community.
Golden Angel's books are available at: iBooks, Kobo, Barnes and Noble, Smash Words, and Amazon.
Tweetable Quotes:
–    "I started writing for a free website called Literotica.com, which is erotica and romance." – Golden Angel.
–    "There are a lot of us (authors) that are huge readers, and we all kind of fangirl over each other and there is a lot of mutual love going around." – Golden Angel.
–    "My newsletter has exploded. I had like 200 people in December (2017) on my newsletter. It's now getting close to 9,000." – Golden Angel.
Resources Mentioned:
About Author
Gabriel Murillo