October 16, 2017
Media Buying For Authors: How To Do It And What To Avoid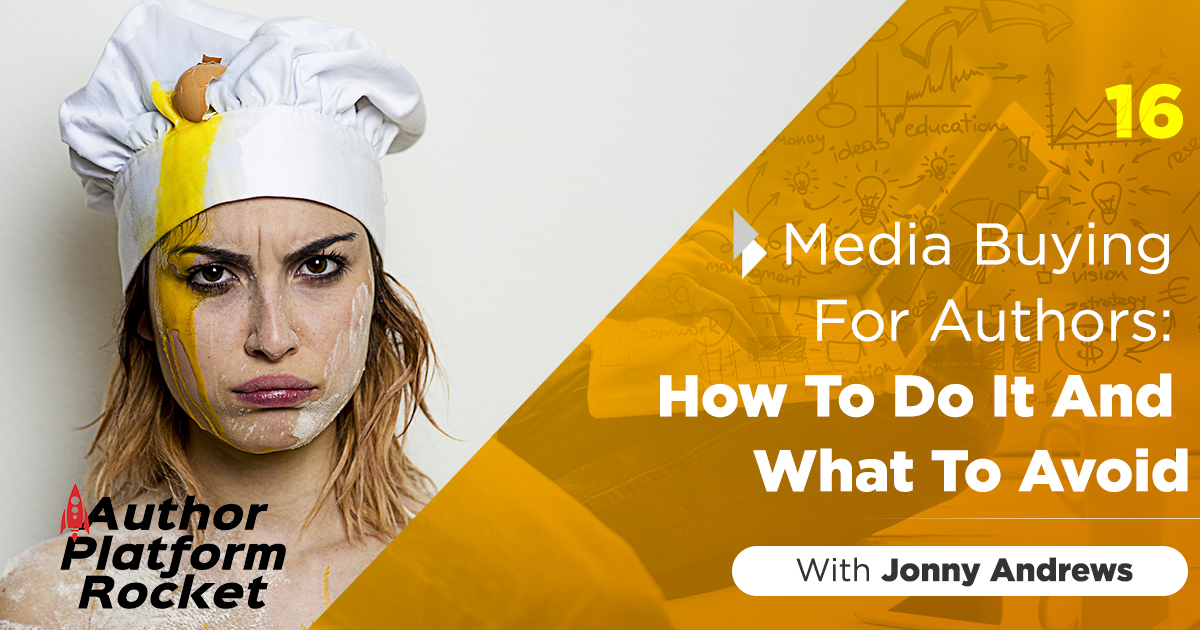 Today, we discuss a platform development technique called "media buying", meaning buying traffic to help grow your audience.  This technique allows you to leverage the traffic of powerful influencers in similar spaces to help you grow your own following. While implementing this strategy, it is critical that you test your creative using advertising and analysis tools. You'll also learn the value of testing small units as a way of figuring out what works best even while on a shoestring budget.
Today we discuss a powerful platform development technique called "media buying"

Jonny attempted to grow an Instagram page about the fashion industry

Shortlisted influencers who had between 500,000 and a million members on their accounts

Had a conversation with the owner of the page using a messaging app called

Kik

Attempting to grow the page by buying "shouts" which are similar to email blasts

Created videos using

Animoto

, a video creation service/app; it's recommended that you buy the business version to eliminate the company branding on finished videos


Key takeaways from this experiment

Recommends a short, 3 hour "shout"—like email blasts, these lose their effectiveness with time

Test out your initial videos by running paid FB traffic to them.  The same goes for your landing pages if your goal is to develop a high converting list building page.
Get in touch with list brokers.  Ask for deals but make sure you actually buy!  They don't like to have their chains yanked.


Initially, you want to test small units on a single day by keeping a tight watch on your budget;

If on Instagram you can test projected influencer engagement using this

tool

Algorithmic changes have made it more difficult to move a large number of people to a new group

Vampire novels grew by using Facebook to generate an email list which helped migrate people to other platforms like Twitter and Pinterest; possible to move subscribers to other platforms using paid advertising.  This is what we are doing now to grow ILVN Instagram.  (And it's working!)

Test your creative to find out what works and what does not BEFORE spending wads of cash


Drive Facebook traffic to a landing page with a free offer; split-test everything on this page using a tool like

Leadpages

Split-testing enables you to determine the percentage of people that will convert; helps you to experiment and POSITION yourself correctly

Experimented with 12 different landing pages for a thriller author by changing the background image; conversion rates ranged from low (11%) to high (60%)

Higher conversions have a HUGE impact on your cost per lead

If you get a negative result, ask for a "make good"; you will be surprised that most people will oblige

Summary:

Make a list of influencers who are catering to your market; get in touch with them via a messaging platform like KIK

Test creative using Facebook Ads and analyze results using a tool, like Leadpages

Reach out to influencers, ask for a rate card and try to get a discount

Test smallest units each day to figure out what works best

Be sure to ask for a "make good" if you get negative results

Keep notes on what works and what doesn't

Scale up what works, start monetizing the page and selling shouts

NEVER spend more than you can afford to lose—once you have data on what works best, RAMP UP

Monetize quickly to offset your costs
3 Key Points:
Test your creative using Facebook ads and analyze your results by resorting to split testing; use a tool like

Leadpages

to facilitate split-testing.

Always ask for a "make good" in case you get a negative result; you will be surprised that most people are likely to oblige.

Once you are in a position to scale up, monetize your page and start selling shouts.
Resources Mentioned:
About Author
Gabriel Murillo