August 14, 2017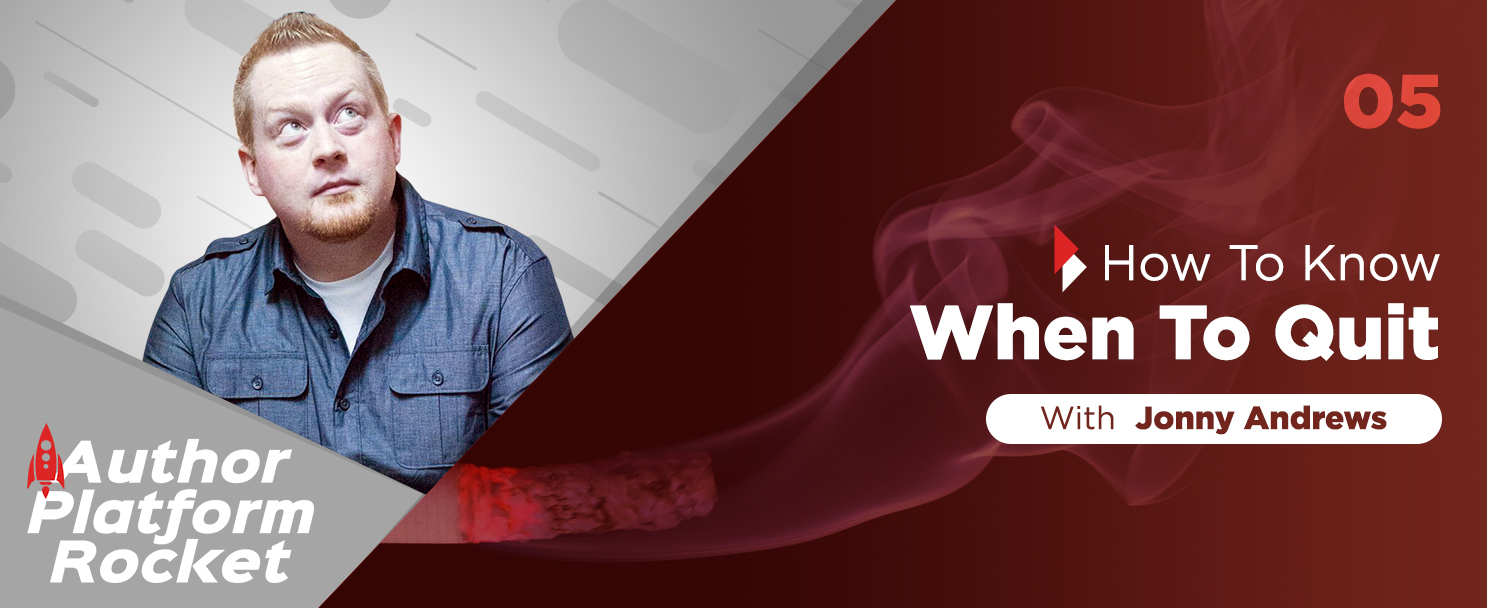 Quitting often carries negative connotations baked into us at birth from our teachers, parents, friends and society at large; however, in this episode Jonny challenges the stigma of just letting something go. For authors, it's easy to become attached to our writing for the sole reason that it's an extension of us. But what happens when that writing just doesn't sell? Today we break down the steps needed to assess why our writing is not performing and ultimately what to do about it. And, if our efforts still come up empty, you'll see why making that choice to quit is really a move towards your next win.
Episode Highlights
Quitting is stigmatized as failure in most cases by everyone around us


Comparing your efforts vs the results of others is terrible way to go

Questions you should ask yourself:

Is there a directly reachable audience for my book? Who and where are they?

Does my book appeal to this audience, so much that they would buy?

Have I done everything possible to engage this audience and build an email list?

Am I publishing frequently enough to keep my audience fed?

You should be publishing at least 4 books per year

How many subscribers do I have? Do they open my emails? And, do they click?

All these questions boil down to a single point – do you have enough readers and are you giving them what they want to buy?

If you're starting out, build a reader-base of about 2,000 subscribers

Use

Author Platform Rocket

to help you do this

Join up with author groups and do swaps

Run your own FaceBook ads

If you don't build a business backed by paid marketing, you're really not building a business

Facebook Ads

insights:

After 2,000 impressions, does your ad have a unique click-through-rate of at least 3%?

Does your ad have a relevant score of at least 6%?

Your cost per lead should be below $1 for fiction and below $4 for the health/business market

Are you getting 30 subscribers per 100 clicks?

You need to quit using Facebook ads if and when these parameters are not being met

Quit and restart
Failure is a lab result, it's a learning opportunity

If you're writing fiction, write at least 4 to 6 books in 12-18 months

As an author, writing books is a labor of love

Take writing and marketing actions on a DAILY basis

"Give it a try time" means employing a strategy for at least 12 months

You could end up making bad choices when emotions take the reins of your decisions

If you're earning a living from writing, start out small

While using tools that track your progress, analyze the trends in your data

Don't make decisions based off the data you receive in one day

Jonny has seen the trend of authors killing their efforts way too fast

Give whatever you do enough time to 'cook'

Sometimes, great things just don't sell and it sucks


Most successful authors have one book that really didn't sell well

Don't hold onto the hope that somehow it's going to work

Quitting can actually be the choice and action you need to take that takes you to your next win
3 Key Points:
Always set realistic and measurable goals; track your progress and analyze the data from over a set period of time.

Set the expectation for yourself that it will take time to earn from your writing.

Don't be afraid to fail. Instead, consider a failure a lab result from which you can learn and make better decisions in the future.
About Author
Gabriel Murillo