October 1, 2018
How to Hit 6 Figures As A Fiction Author In A Crowded Market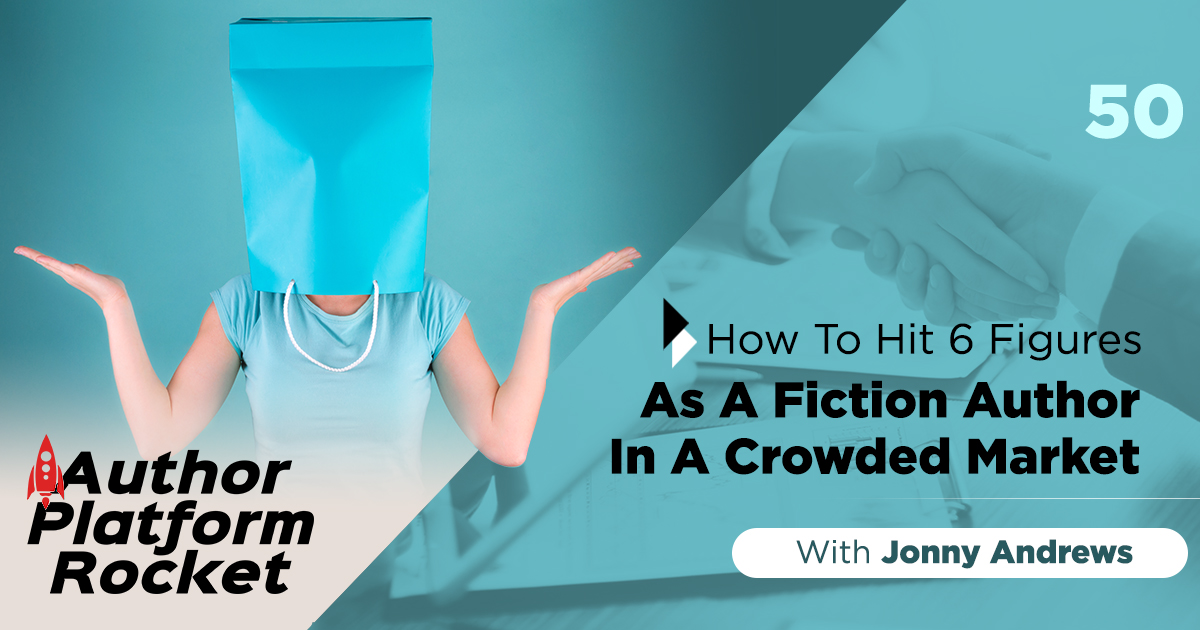 During this 50th episode of Author Platform Rocket, host Jonny Andrews and anonymous guest, ¨Mr. X, discuss the evolution of book marketing strategies from how it ¨used to be¨ to what it is today. The two discuss the power of conversational conversion and what it means to connect authentically with the audience. With all the different means of connecting with fans, Jonny and Mr. X outline the modes that have not only worked, but taken book sales from 112 per day to 444 per day in a single week. Download PDF Podcast Transcription
Click Here To Join The Author Marketing Association & Get Free Access To Becoming A Six-Figure Author Training >>
Introduction of guest X, famous, successful author protected by anonymity.
X has a love for books and ended up without a job.
5 Years ago Mr. X published the first book.
The evolution of book sales has transformed from word of mouth to more technological path
The key to selling books is connecting to people, capturing them, and eventually converting.
People have to know you to be able to sell books.
You have to be able to stand-out when you write a book.
Today, to keep up with the market, you have to publish the book, advertise, connect with the public, AND stand-out.
Conversational conversion is the art of selling without selling.
Being who you are is the best way to sell.
A new strategy that allows writers and readers to connect–aka taco tuesday.
Connecting with authenticity is the new way to convert and sell.
Your social media followers don´t matter if you aren´t interacting with them and they aren´t interacting with you.
Engage your subscriber base in an interesting way
Sales increased by 300% because Mr. X found a new, authentic way to connect with people–the power of taco tuesday.
Ask and you shall receive: ask your fans what they want.
The ways that Mr. X leverages facebook live.
Going out and meeting someone is the best business builder.
The way you can build different audiences in facebook.
The connection and capture phases of the business can be merged.
Connection is not a one and done process.
3 Key Points:
The market shift in book publishing has now grown to incorporate social media aspects.
Connecting authentically with your audience can bring huge gains for you and your business.
Creatively connecting to different audiences helps to engage, connect, capture, and convert. Conversational conversion is sometimes the most successful way to grow a business.
Tweetable Quotes:
"You have to relate to people; they have to relate to you.. especially when you are telling a story" – Mr. X.
"Be who you are" – Mr. X.
"You are who you are. Let them [the readers] see you" – Mr. X.
"One of the core pillars of communication is that people buy from someone they know, like, and trust." – Jonny Andrews.
Resources Mentioned:
About Author
Gabriel Murillo