October 30, 2017
How To Build Your Review Team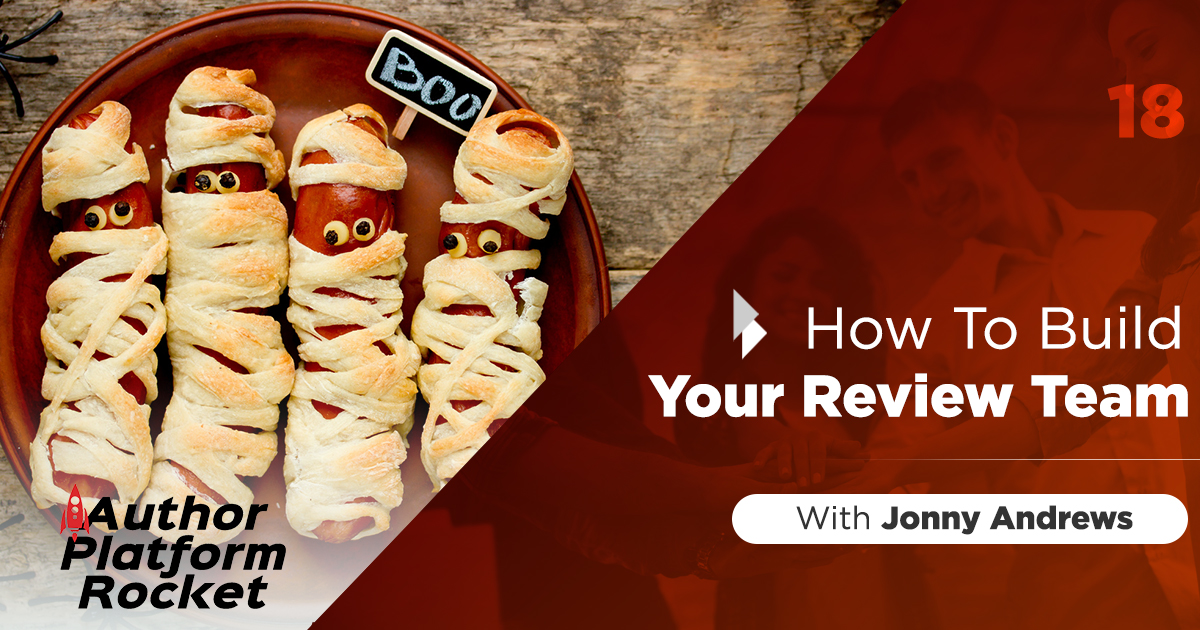 Today, we talk about page conversion optimizers which increase the likelihood of getting better sales, particularly in regards to book reviews. Craig, from Hiddengems, provides some great insights on this topic as Hiddengems sole purpose is to help you attain those coveted reviews. Craig breaks down three approaches you can employ to attain reviews and lays out the benefits of hiring an outside agency to take care of this process for you. Jonny and Craig also explain the tricky Amazon Review policy to help you navigate their rules carefully. Tune-in and discover ways you can retrieve those trusted reviews to skyrocket your sales and conversion rates!
Reviews are social proof stating the quality of your book

Difficult for a new author without a following to generate reviews

If you are self-publishing, it is more of a challenge

Tips and Tricks to BUILD your ARC team

Established authors with an ARC team receive a 10-20% return rate for their free handouts

If you do not have your own list, you can consider hiring a marketing agency

Hiddengems markets 100+ books every month

Sending off free copies to your mailing list to fans who would probably buy your book anyway is NOT the best strategy

Consider sending free books to younger people who are interested in your book, but do not have the money to buy it

Managing an extensive list on a case-by-case basis is difficult

Insights into Amazon Review Policy

Policies are pro-customer which is not good for the seller/author

Policies are open to interpretation since Amazon applies it selectively

Email marketing with affiliate links can be shut down without any prior notice

If the reviewer has received a free book, he needs to mention it

Incentives cannot be provided in exchange for a review

Reviews cannot be FORCED, need to be voluntary

Policies are tailored to generate HONEST reviews

Any serious author needs to have a review-receiving process in place

Do it IN-HOUSE by building a team

Or, target your existing LIST

You can also reach out to groups who can help you get a review

Most authors who work on getting reviews in-house have an assistant to deal with this cumbersome task

Craig shares how Hiddengems can help you

Send your book information to Hiddengems and they will put it in front of people who will MOST likely enjoy your book

From those who sign-up, the best people are chosen based on how many people the author wants

Send out the book and follow-up with these people to get reviews

On average, Hiddengems is able to generate 80 reviews for every 100 books sent out

Expect any review-getting process to take TIME and MONEY

Hiring a service saves you time which you can use to streamline other business processes

Authors need to concentrate on their writing and publish as much as they can

You can also opt for a validation service by Hiddengems which is more cost effective and let's you know how many people left you a review

 

Get in touch with Craig through his

website

or his

email

Email

your questions to Jonny and

forward

this show to an author friend who might need the love and assistance!

If you are an author who needs assistance, do not hesitate to check out our

website
3 Key Points:
A

ny serious author SHOULD have a review process in place; you can do it in house, target your existing list or reach out to a group.

Hiring an agency can increase your return rate exponentially—Hiddengems generates 80 reviews for every 100 books sent out.

Hire an AGENCY to help you out so that you can concentrate on your other business processes and writing.
Resources Mentioned:
About Author
Gabriel Murillo