August 7, 2017
How Long Does Success Take To Show Up? (Can I Make It Faster?)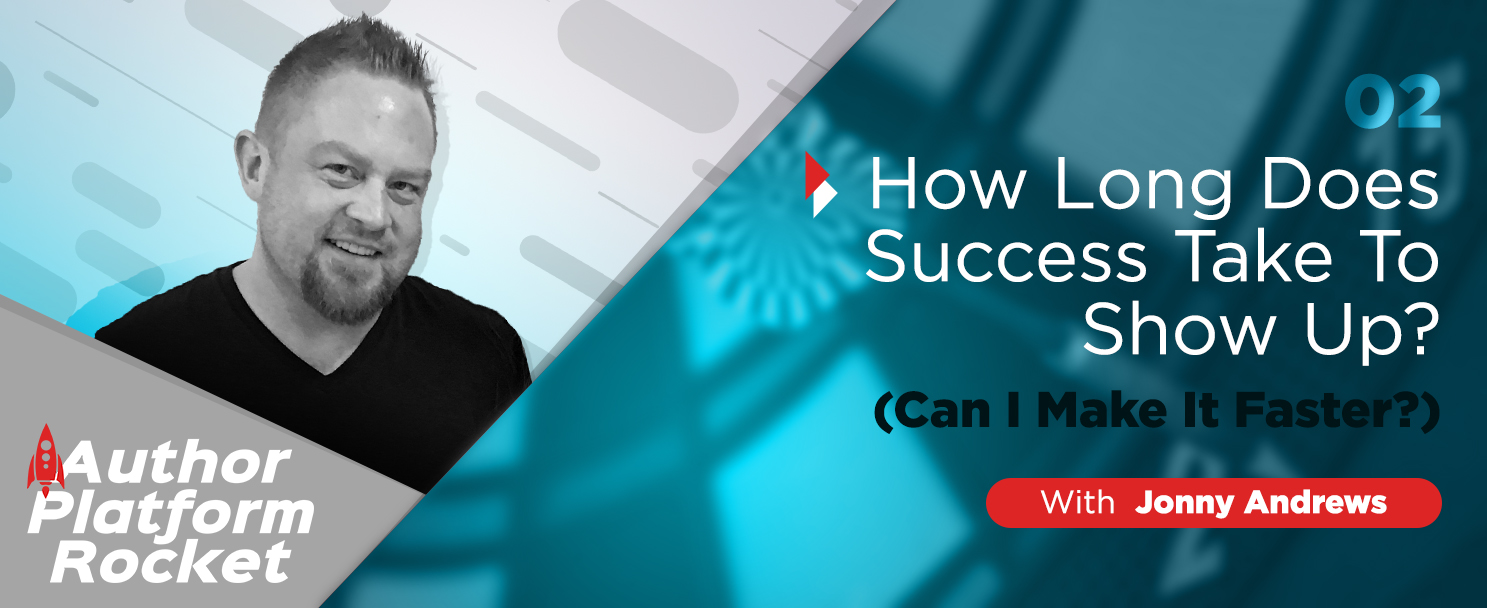 In this episode we address one of the most asked questions we get – "how long does it take to experience success and how can I speed it up?"  While the very concept of "success" can vary from author to author, there is a process which can help you get clarity. Tune-in as Jonny breaks down the three steps to help you gain the traction you need to define your goals, your audience while creating an action map to get there.
Episode Highlights
Today's Episode – How long does success take and how can I speed it up?

Of the questions asked this is a frequent one
Every author has a different business model which means the answer will be different
There is a process anyone can use to get clarity

3 Steps to Speed Up Success

Step #1: Clearly identify your definition of success

Put it in monetary/financial terms
Go through all your bills and decide how much you'll need on a monthly basis (your monthly "nut")
See what number you're trying to hit
Visualize your ideal life and compute how much it will cost (Tactic from Frank Kern)

Be mindful of our mood in the moment

How you are feeling will often dramatically color your outlook on the future
What can you do, right now, to shift your perception?
Basically the "good" story AND the "bad" story are both complete lies
But we can use the "good" to help push us forward a bit more
Use this projection tactic to help you feel better
Be ready for that voice in your head telling you this can't work for you.  Shut it down.

Step #2: Figure out who your market is and how you want to serve them

Who you are includes what you are willing and capable of doing to produce income
Who is your audience and what do they want?
Use your email list to get to know your audience more
Eben Pagan's customer avatar

Age/gender/income/marital status
Hopes/dreams/fears
What do they like/Where do they hang out

Facebook Business Ads to look at your own fan page's insights
Look at authors in your genre—look at what they do and look at their audience

What are they doing to generate income?

If you're not in fiction, the fastest path is by buying a product or coaching package

Step #3: Create your action roadmap using the 1% rule

Place on the map where you are and where you want to be
The distance is where you will fill in the blanks with your marketing plan
How many sales will it take for you to cover your existing monthly nut?
How many sales will it take for you to cover your dream?
The 1% Rule: 1% of your traffic will buy whatever you're offering
How much traffic will it take to get there based off the 1% rule?
Look at your numbers over the course of a few months to get a better idea
Backend products help get you to your numbers much faster

Recap:

Measure your success in terms of monthly income because you can measure that
Based on where you are now, how much traffic will you need to get in order to hit your goal?
What can you offer in addition to books to boost your revenue? Do you have backend products or services?
Don't be a perfectionist.  Speed is always better than perfect quality.  Always.
Expect that inner nagging voice to show up
In the next episode we will go over how to set up an effective marketing plan
3 Key Points:
    The definition of success is NOT universal – it differs from person to person.
    Set-up your customer avatar and identify the ways you'd like to serve them.
    Know your numbers so you can set your targets accordingly.
Resources Mentioned:
About Author
Gabriel Murillo