December 25, 2017
How Giving Away Free Stuff Can Make You Wealthy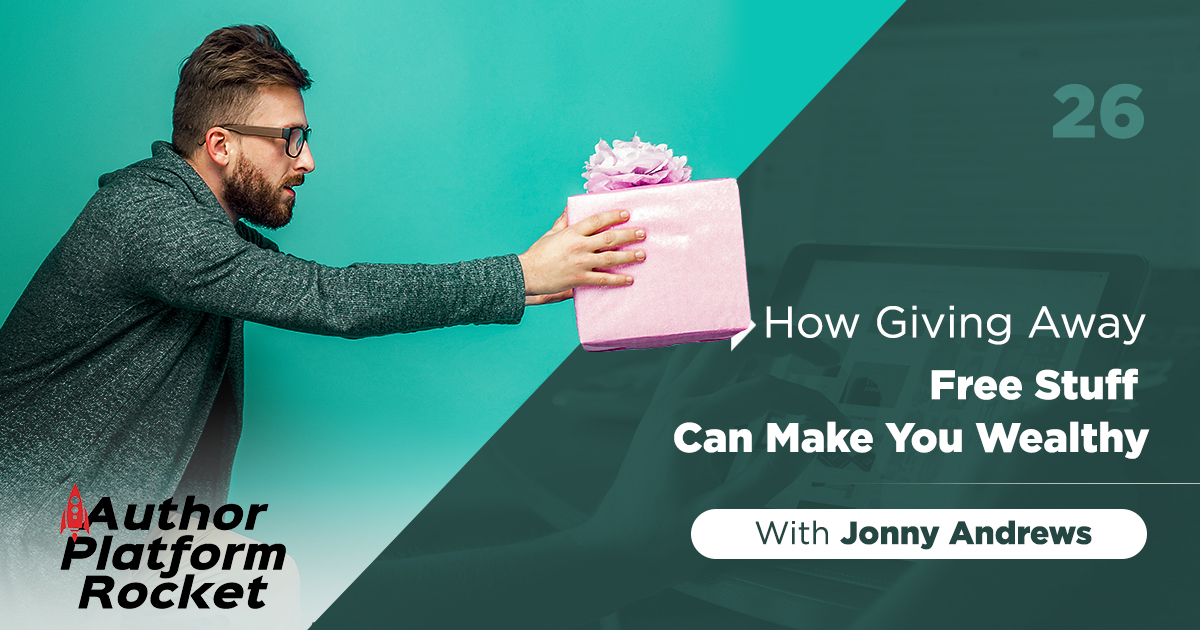 Click Here To Get On Track With Your Ecosystem Profit Audit
In today's episode of Author Platform Rocket, we share a conversation about how doing things for free can lead to more future income. With so many authors and way more books than readers can consume – how will your books cut through the cluttered industry? Build your audience that will willingly buy your books to have their problems solved and be entertained by the stories you share. Learn what Jonny means when he says "conversational conversion" and being "front of mind." Learn how the power of "free" can help you spell "freedom" in your financial life. Download PDF Podcast Transcription
The shared struggle of authors is to be discovered by readers.
The barrier to entry is gone and the industry is flooded.
The romance genre is flooded and readers can't keep up with the overflow of books.
Smash Words published data stating that authors that give away the 1st book in a series earn 30% more.
Give new readers something free in exchange for name and emails, Chatbot using BookFunnel.
Reasons you give books away for free: build audience, establish touch points, gain buyer data.
Jonny gives away free training, podcasts, videos – gains emails and agency applications.
Free things help pull in people who are really interested in what you offer.
"Conversational Conversion" – engage people and then find what their problems are and solve them.
Use Facebook social combined with advertising to get people excited to buy what you offer.
Author applied what he learned from Jonny and began earning $100,000 a month from a series very quickly
Be front of mind – become thought of as an expert in your specific niche.
Figure out the methodology that will bring people to you – don't look for one big thing to do it all.
Document and release things that help or entertain your target market.
Who are you? Who do you serve? How do you serve them?  Answer those questions to get clarity
It takes time, effort, and consistently applying these strategies to succeed.
3 Key Points:
Give something away for free to build your audience and gain buyer data.
Become a "front of mind" expert that people think about in your niche.
Keep releasing things that help or entertain your core audience.
Tweetable Quotes:
-"Anybody with an idea and an editor can get a book out." – Jonny Andrews.
-"If a person won't take a thing you are trying to give them for free –they are not your customer." – Jonny Andrews.
Resources Mentioned:
About Author
Gabriel Murillo