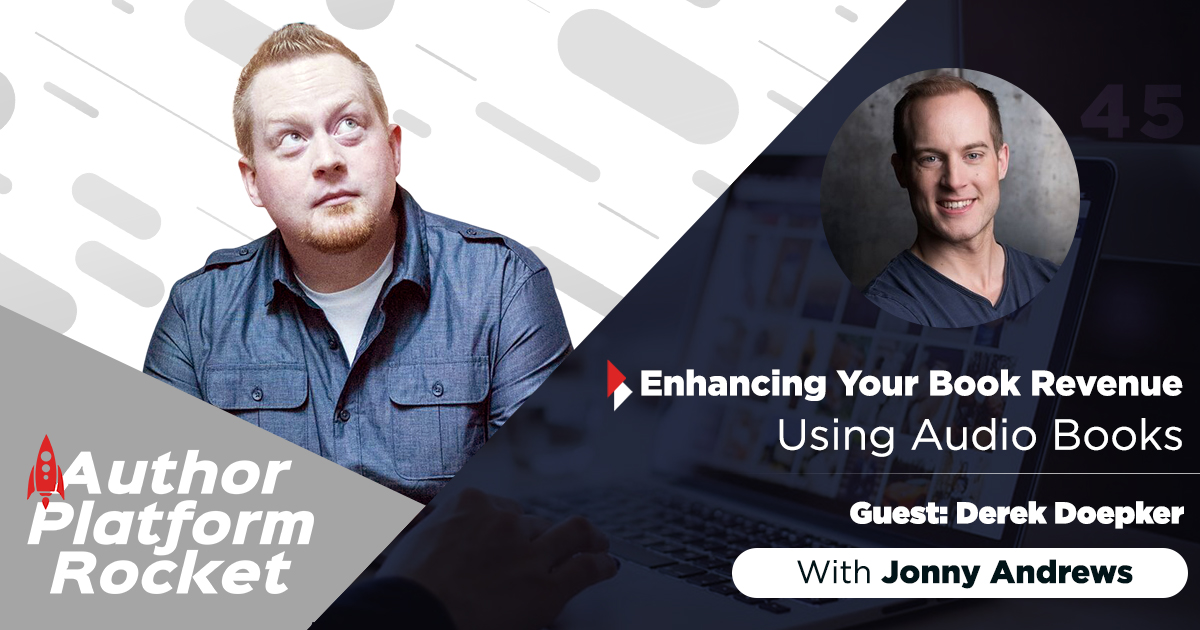 During this episode of Author Platform Rocket, Jonny Andrews continues his interview series with seven-time #1 bestselling fitness and development author Derek Doepker. Their discusses covers the areas of his process of selling over 50,000 books, the importance of increasing your influence, and the growing audio book industry. Download PDF Podcast Transcription
Derek moved to Los Angeles to become a rock star and had to live with a hoarding roommate.
He published his first book on Kindle and it sold three copies.
Second book of Derek's sold more copies to strangers.
Learning about influence and relation-building was an important point of growth.
"50 Fitness Tips You Wish You Knew" sold almost $6,000 in 11 days.
Derek has been most excited about how to get more consistent sales.
Audio books have increased in sales by 30% over the last year.
Whispersync syncs up the Kindle with an audio book.
Audio books weed out the authors that won't take that extra step.
Understand how to get distribution for the audio book and how to create the audio book created.
ACX is available in the United States, Canada, UK, and Ireland.
Authorsrepublic.com helps authors get distribution from anywhere in the world.
You can hire a narrator and pay them flat out or do a royalty split.
Proof-read your book out loud while recording your audio book.
3 Key Points:
Derek wanted to do what he loved for a living, which is helping others through fitness and development, and get paid for it.
"50 Fitness Tips You Wish You Knew" was Derek's first book to become a #1 bestseller in Weight Loss, gaining almost $6,000 in 11 days.
Consistent books sales for Derek have benefited from Amazon Marketing Service Ads and audio books.
Tweetable Quotes:
–    "I published my first book on Kindle, and right out of the gate, first book I published, sold about three copies." – Derek Doepker.
–    "Do things that others aren't willing to do." – Jonny Andrews.
–    "Quick tip, using your audio book as a bonus is a really cool thing that you can do." – Derek Doepker.
Resources Mentioned: