August 16, 2017
Home
Business Mindset
Am I Selling Out? Bestselling Author Kevin Tumlinson Illustrates The Power Of "Pivot"
Am I Selling Out? Bestselling Author Kevin Tumlinson Illustrates The Power Of "Pivot"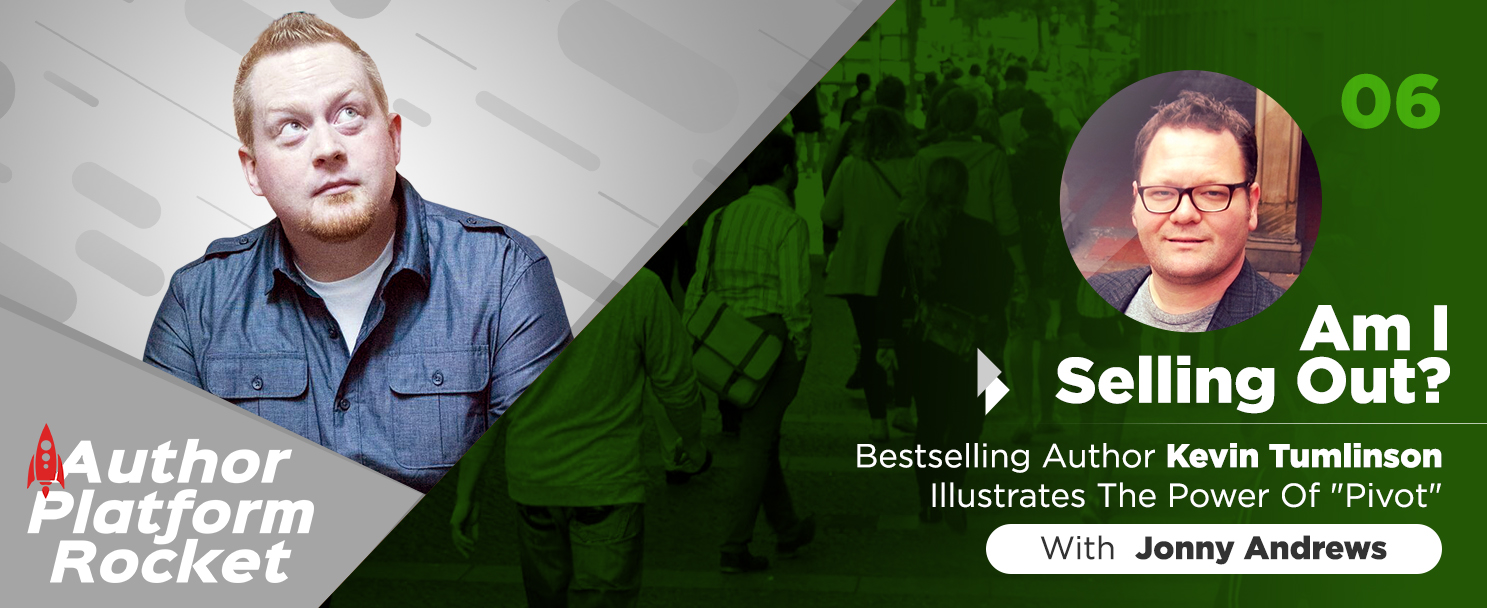 Committing to one genre as a writer may work for some, but not for all. In fact, sometimes exploring other genres can give you the opportunity to test your limits and tap into the market in a new way. Today's guest, author  Kevin Tumlinson, took the the creative leap when he pivoted from writing sci-fi to thriller. Kevin is a bestselling author, blogger, host of the Wordslinger Podcast and marketing director for Draft2Digital. Tune-in as Kevin breaks down the reasons for his creative pivot and how his "failure" to perform in one genre resulted in success in another. The previous episode was about knowing when to quit; today you'll hear how quitting (a genre) resulted in a WIN for Kevin Tumlinson.
Kevin started as a sci-fi writer and before his pivot had over 40 books in the market


His first series,

Citadel

, launched in 2008

He had a nice following, but he couldn't crack the income code

Kevin was doing a podcast with

Nick Thacker

when Nick challenged him to write a thriller

Kevin took the dare, wrote a thriller, and it was a big hit!

It earned bestseller status on Amazon

The weirdest thing is that out of the 40+ books Kevin's written, his thrillers got the most attention and success

Kevin invested a lot of time into writing sci-fi, but he knew he had to make a compromise

Writing these thrillers opened his eyes to the many, creative different ideas he had put aside

"It changed my perspective in my career"

He turned down Jonny's offer to ghostwrite for romance – because he wanted to focus on his sci-fi writing

He did not leap into a 'selling-trend'

just because

It's important for authors to make sure their writing is IN LINE with who they are

Writing romance didn't feel right for Kevin

Kevin's criteria for switching genres:

Write something people will read

Make sure the story fits the readers

Look to see if authors made money in that genre

Assess whether or not you can keep up writing that particular genre

Can you scale?

Kevin went to

The Nebula Awards

in Pittsburgh and came to the realization that he just didn't like it there

He realized he had outgrown science fiction

If you're questioning the genre you're in, think about pivoting

Kevin shares how in

Neil Gaiman's speech

, he describes his career as a mountain

"You have to do the things that are going to move you closer to your actual goals as an author"

Connect with Kevin on his personal

website

and on

Draft2Digital
3 Key Points:
It's not easy to pivot away from a genre you've already invested in; at the same time, don't hesitate to make that move when you know it's time to move forward.

Be open to the possibilities that are out there.

Do the things that will move you closer to your goals.
Resources Mentioned:
About Author
Gabriel Murillo