July 9, 2018
A Faster Path To Becoming A 6 Figure Writer With Matthew Thrush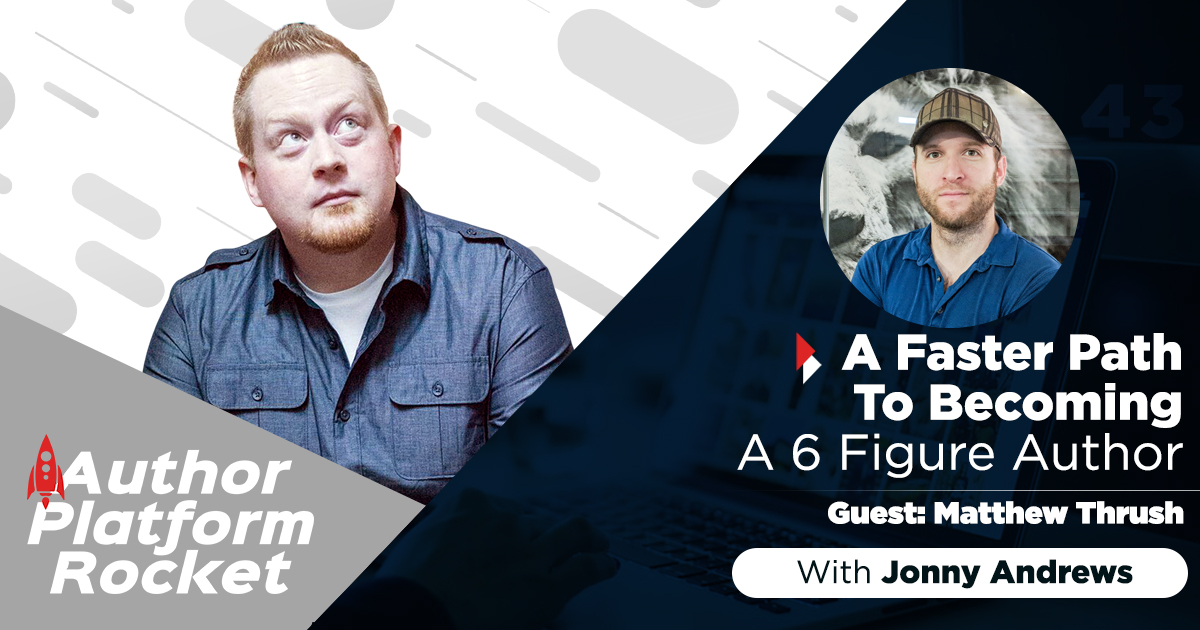 Want to learn the steps?  Click here for Six-Figure Writing Training Webinar >>
In this 43rd episode of Author Platform Rocket, host Jonny Andrews interviews author Matthew Thrush, who writes novels full-time, who has went from being $85,000 in debt in 2015 to become an independent writer, and building his business up into a six-figure career. Download PDF Podcast Transcription
In 2015, Matthew had $85,000 of debt and wasn't able to land a job in eight months for typically be overqualified.
He got finally landed one as technical writer in Houston.
His vision was to be earning 6 figures from his writing
Matthew sought mentors, researched, and began to write 2,500-5,000 words per day.
Matthew's 2017 goal was to make writing books his full-time job, and made this happen in four months and earned six figures.
Ghostwriting was extremely lucrative for Matthew, which he was inspired to do by watching the movie "The Ghostwriter."
Matthew set a goal to reach $10,000 a month.
His ghostwriting rate started at 4-5 cents a word and has moved up to 15 cents a word for fiction and 25 cents a word for nonfiction.
Ghostwriters can sometimes be credited as co-authors.
Upwork has been a great resource for getting writing jobs.
Focus on your proposal on how you can help them achieve their goal.
Helping others leads to an abundance mindset into of a scarcity mindset.
3 Key Points:
Treat writing as a full-time job.
Set clear and achievable goals.
Make writing your full-time job.
Tweetable Quotes:
"You have to surround yourself with like-minded people who are either on their way to  where you want to be or are already there." – Matthew Thrush.
"Ghostwriting…at the very basic level, someone pays you.to write a book and they have all the rights. However, "– Matthew Thrush.
"Visualize clients like people, because that's who they are."– Matthew Thrush.
Resources Mentioned:
About Author
Gabriel Murillo